Splink 1:
Baptism Example
This week's lesson was about Jesus' baptism. Share a simple object lesson and then talk about your own baptism. (How old were you? What it meant to you. Show them your baptismal certificate or a picture of your baptism, if available.)
Hold up a wedding ring and ask:
What does it mean if someone wears a wedding ring? (That he/she is married.)
When people see it, they know that the person wearing it has a husband/wife.
Take the ring off and ask:
Would a person still be married even though they are not wearing the ring? Yes, the ring is only a symbol that shows other people that he/she is married. A person is married when he/she makes a promise and says, "I do" or "I take you to be my wedded husband/wife."
This is similar to what happens with baptism. Baptism is a symbol that shows others you are saved. It tells others you believe Jesus died for your sins, He was buried, and He came alive on the third day. It tells them you said, "I do" want Jesus to come into my heart and take my sins away. You are saved when you believe and ask Jesus into your heart. Baptism does not save you, but it just shows on the outside what has happened on the inside. It shows others you have chosen to follow Jesus and you are not ashamed of Him.
Splink 2:
Dove Decoration
When Jesus was baptized, the Holy Spirit descended on Him as a dove. Jesus willingly came to earth to give His life for us.
Make a dove ornament to add to the Christmas tree. Use the materials you have on hand (white foam sheet, white small paper plate, copy paper, etc.). Below is a picture of an idea from Pinterest (bellablvd.typepad.com).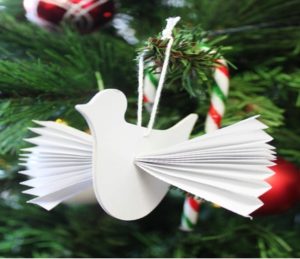 Splink 3:
Follow His Example
Make a paper chain tree to record (and encourage) good deeds. Cut green construction paper into one inch strips (lengthwise). Use these to make a paper chain tree. Announce that every time someone does a good deed for someone else until Christmas, it should be written on a slip of paper and attached to the tree. (Tape or thumbtack one ring to the back of the door or another spot to get it started.) When you see your kids being helpful, saying kind words, etc., write it on a strip of paper and add it to the "tree." (Add a bow or star at the top if you like.)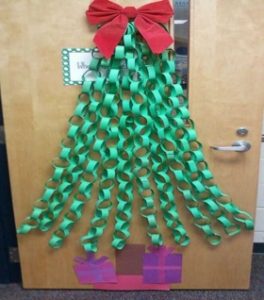 image source: pinterest.com
Jesus is our example! He willingly came to earth to do God's will. He helped others, He fed people, He listened, He paid attention to small children, He gave, He prayed, He loved, and more. We can follow His example.

Splink is a simple way to link your family together spiritually. Through FREE weekly emails packed with ideas, Splink helps you and your family engage in conversation. Whether it's making memories or having fun together, Splink allows you to capture those teachable moments to impress spiritual truths and life lessons on your kids. No matter where you are, there's always time to Splink!