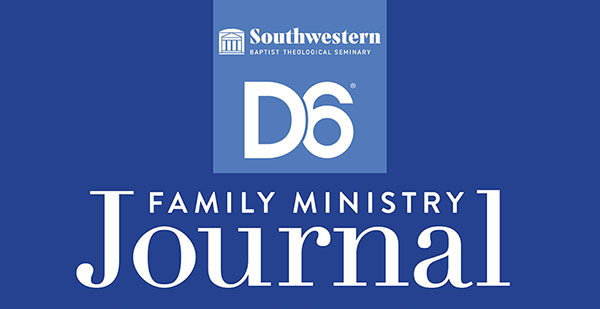 Our Mission
Randall House & D6 Family Ministry is partnering with Southwestern Baptist Theological Seminary to become the named sponsor of the D6 Family Ministry Journal. The publication will now be known as the Southwestern D6 Family Ministry Journal. The purpose of the journal is to support rigorous research, scholarly thinking, and practical implications of parenting in Christian homes, in local church family ministry, and in parachurch settings that reflect God's intent for generational discipleship as presented in Deuteronomy 6 and other biblical texts. This purpose is achieved by the publication of articles and essays that do the following:
Reflect on the scriptural foundations of God's use of paternal and maternal influences in the lives of children and grandchildren while acknowledging the current reality of family situations.
Explore the integration and application of the relationship between the church and home.
Support the teaching of generational approaches to Christian education at colleges and seminaries for the equipping of ministry leaders and parents.
Champion methodologies and cultures that prepare and retain children and young adults in the development of a Christian lifestyle and Christian leadership skills.
The journal is primarily intended for two audiences. First, an academic community of professors and students in institutions of higher learning who are committed to the development of a new generation of Christian ministers and community leaders. Second, those professionals who are already serving in local church and parachurch settings. In order to facilitate discussion and learning among both groups, each publication will:
Provide publishing opportunities primarily for:

Academic peer reviewed work.
Practitioner reflection.

Offer a platform for research into family ministry.
Review new books connected to generational discipleship and classic texts and family ministry related fields.