Discipleship at Home During COVID-19
While the current climate is very concerning it also offers the perfect opportunity for parents to learn Deuteronomy 6, "At home" habits. Most pastors are concentrating on getting what should be happening at church to the home but imagine the power of parents stepping up with faith talks that reinforce what is happening through everyday habits. That's D6.
Randall House & D6 Family Ministries are providing a list of resources to help you help families in your church. It will be updated regularly so check back for the latest ideas and resources. While you are helping keep families connected to church, we can help you keep families connected with Scripture through at home discipleship every day.
---
Free Resources:
The D6 App
Family Activities, Faith Talks, Podcasts, & More!
– iOS
– Android
Reopening the Church – Livestream Series
Blog Posts:
– Family Faith Talks
– Maintaining Good Mental Health During Covid-19
– What Will It Look Like in a Post-Covid Culture?
– Surviving Crisis in Ministry
– D6 Provides Free At-Home Discipleship Materials During the Coronavirus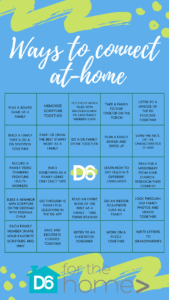 Livestream Tips & Recommendations
Better Together Podcast: Discipleship During Social Distancing
---
Other Resources:
Discipleship at Home Book Bundle
D6 Devotional Study Guides:
– Cuddle Time Bible Storybook (2-5 Years)
– Adventure Guide (Grades K-2)
– Explorer's Guide (Grades (3-5)
– Velocity (Young Teens)
– Forward (High School)
– The Brink (Young Adults)
– FUSION (Parents w/ Kids)
– FUSIONext (Adults w/o Kids)