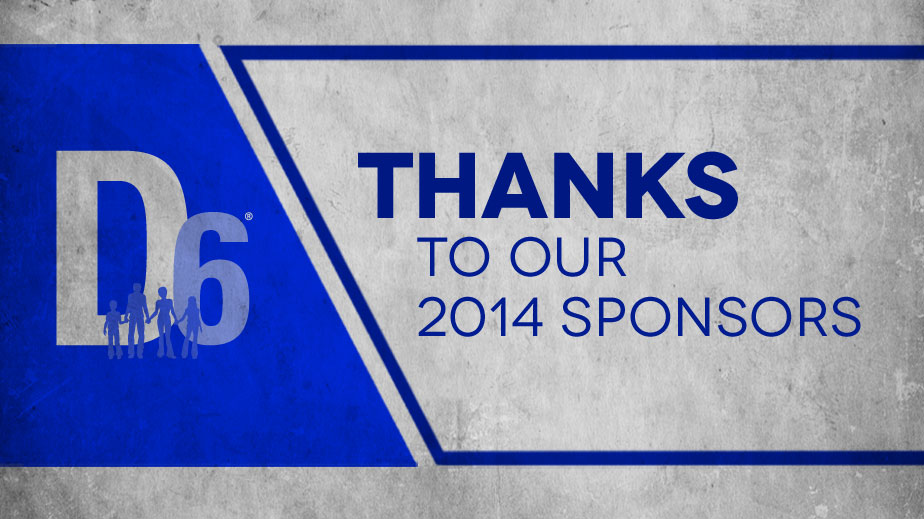 There are some things that simply can't happen without a team. Here at Randall House, we try to take a team approach to everything we do from creating our D6 curriculum line to hosting one of the largest annual events dealing with family ministry. Putting on that kind of event definitely takes a team and at times, that team reaches outside of our walls to the sponsors and exhibitors who make it all possible.
In 2014, we were privileged to host more than 40 exhibitors in addition to the 10 organizations who came alongside us as sponsors of the D6 Conferences. For that, we want to say a huge D6 THANK YOU to all of them and specifically introduce you to our top tier sponsors who helped make D6 2014 such an incredible event.

Our friends at Awana have been doing some pretty incredible things with their ministry of late. If you haven't had a chance to see one of their newest projects outlining the impact of their efforts around the world, you should definitely check it out here
. They are passionate about instilling a lasting faith in the next generation, which makes them a great partner for us here at D6. If you haven't taken a look at Awana in a while, maybe it's time to reacquaint yourself with them as they are reaching kids, equipping leaders, and changing the world.




It is an amazing thing when apparent competitors in similar markets can come together to support one another in advancing the mission of Jesus in our homes and our churches. This is exactly what we have experienced with David C Cook. We're both publishers. We both produce curriculum. But there is one thing that brings us together instead of driving us apart: We both believe in the power of the gospel to transform families forever. This common thread meant that DCC became a part of our D6 Family and joined us at D6 2014 to resource and equip churches to reach the home. That, friends, is pretty cool.




Focus on the Family has long been a pillar in the family ministry conversation. We're thankful to them for recognizing our event as a platform to continue resourcing those who are catching that same vision and working in that space. Their Family Project explores the biblical foundation for families and offers hope and practical tools for helping modern families thrive. It was such a privilege to have them with us, and we hope that we can continue to provide an avenue for great projects like this to be found by our attendees and followers from all around the world.

These organizations represent what is great about the family ministry movement that is happening in our churches and homes. More and more people are looking for solutions to this age old challenge of generational discipleship, and our hope is that we can not only be a source of encouragement to those who are on this journey but a provider of tools and resources to help make passing on the gospel to the next generation a reality. These guys help make that happen and for that, we say THANK YOU.

Latest posts by Brandon Roysden
(see all)