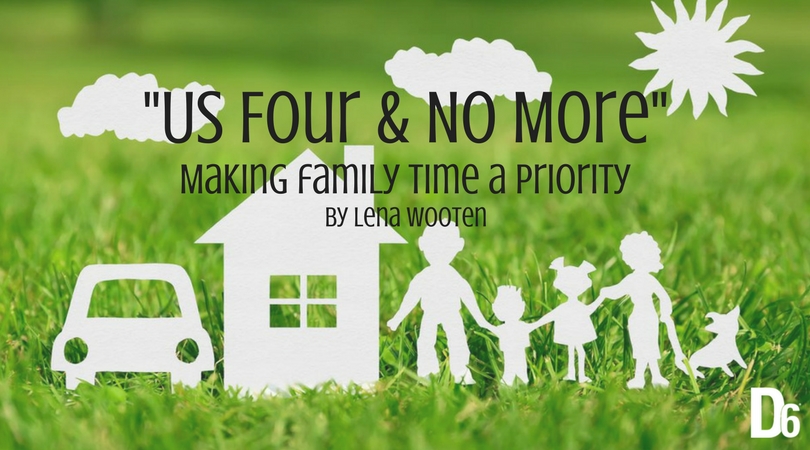 My husband and I both work full time in ministry. We are the proud parents of two teenagers. Often, as a family, we are pulled in different directions. Sports, jobs, theatre practice, music lessons, church events, and so on. We get caught up in all we have to do; all of the people that need us. When we start to feel busy or overwhelmed as a family, one of us will say "OK, us four, no more." That means it is time to hit pause and spend time together as a family—just the four of us and no one else.
You can improve the quality of your family time by doing things together as a family every chance you get. The activities can be big or small, planned or spontaneous. It's just about spending time together. If you are looking for ideas to create quality family time, here are a few activities you can try with your family.
Have a family devotional
Game night
Build a snowman
Pack a picnic
Go on a family bike ride
Fly a kite
Make a bird feeder
Watch old home movies
Hang out around the fire-pit
Read a book together
Pull out sleeping bags and have an indoor campout
Roast marshmallows in your fireplace and make s'mores
Throw ball in the back yard
Have a Nerf battle
Go ice skating
Shoot some hoops
Have a dance party
Pitch a tent in your back yard
Make a fort in your living room
Draw a family portrait
Paint a picture to hang in your home
Play hide and seek
Make homemade ice cream
Have an outdoor movie night
Go to Goodwill and pick out an outfit for each other to wear
Make play dough creations
Go on a hike
Play four square
Do a puzzle
Try Geocaching
Make a time capsule
Watch the sunset
Have a craft night
Look at family photo albums together
Make your own pizza night
Go swimming
Have a lip sync battle
Write letters to each other
Plant a garden
Make a meal for someone who is sick
Play charades
Play Frisbee together
Create sidewalk chalk masterpieces
Go stargazing
Make a craft from Pinterest together
Go bowling
Remember, these family time activities do not have to be complicated. Your children just want to spend time with you and make fun memories as a family.

Latest posts by Lena Wooten
(see all)